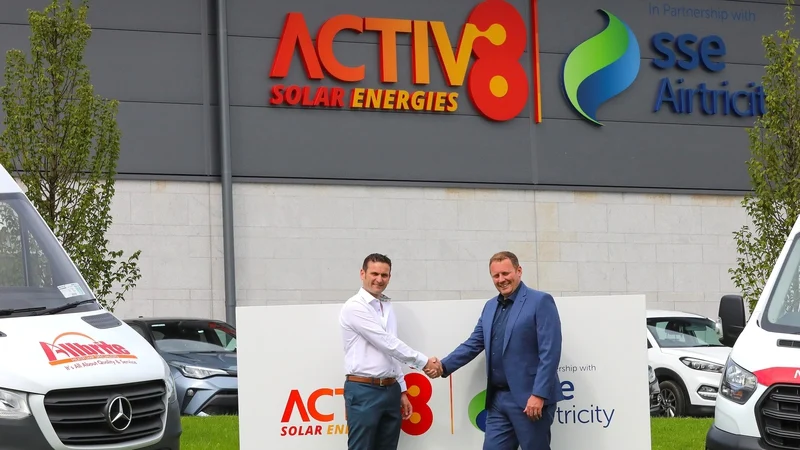 ---
https://www.rte.ie/news/business/2023/0824/1401377-activ8-energies-buys-allbrite/
Solar panel company Activ8 Energies has announced a deal to buy 50% of heat pump company Allbrite for an undisclosed sum.
Since it was founded in 2007, Activ8 has installed more than 17,500 solar panels around the country.
The company, which now employs 185, last year moved into a new headquarters in Carrickmacross in Co Monaghan.
SSE Airtricity is a 50% joint venture partner with Activ8 Solar Energies.
Active8 said today's acquisition marks a significant expansion of its services and underlines its dedication to providing comprehensive, sustainable energy solutions.
Founded by Alan Duffy in 2002, Allbrite has a workforce of 30 and as one of the country's largest heat pump installers it completes around 500 installations every year.
Its portfolio includes key projects for Limerick County Council and the district heating system for Dun Laoghaire Rathdown County Council.
In line with the Government's Climate Action Plan and a target of 600,00 heat pump installations by 2030, the two companies said there is a clear roadmap ahead.
They said they are expecting a surge in heat pump installations with projected growth to 1,100 heat pump installations per year in the next two years which would establish Allbrite as the largest heat pump installer in the country.
This planned growth will see the creation of an additional 30 jobs at Allbrite within the next 12 months.
Ciaran Marron, CEO of Activ8, said today's deal was a pivotal moment for the company as it broadens its renewables energy footprint.
"Our companies have been working together in partnership since 2017 on a range of retrofit projects across Ireland. This strategic partnership formalises our relationship with Allbrite and reflects our shared vision for a sustainable future," Mr Marron said.
"By integrating our expertise and resources, we are poised to lead the industry forward, offering unmatched energy solutions that will empower businesses and communities across Ireland," he added.
Alan Duffy, CEO of Allbrite, said that joining forces with Activ8 is a testament to the shared values and commitment of the two companies.
"We are excited to combine our heat pump excellence with Activ8's market-leading solar solutions, propelling us to the forefront of Ireland's renewable energy landscape with the target of becoming the largest heat pump installer in Ireland within the next twelve months," he added.